Welcome to Ardmore House B&B
Ardmore House is set on the edge of the Atlantic Ocean on the Wild Atlantic Way amid rugged landscape. Situated 5km west of Clifden town, on the Sky Road Loop, it is a small holding stretching from the upper Sky Road to the lower Sky Road and on out to the cliffs of the Atlantic Ocean. Here we have made a walkway and picnic area for our guests. The spectacular views from the cliffs of Clifden Bay and the Atlantic Ocean are some of the best you'll find in the country.
Free Wi-Fi available
BMW EV Charger Available
Free Internet access in lounge
Non Smoking in all rooms
Checking in time: between 4pm & 6pm
Pure spring water in glass bottles supplied in all bedrooms.

Approved to Failte Ireland Standard. Awarded 4 Stars by the AA.
Recommended in best B&B Guide to Ireland.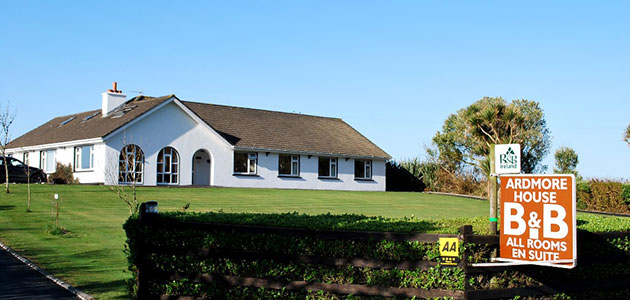 Ardmore House, Sky Road, Clifden, Co. Galway, H71 K239 Ireland
Tel: +353 (0) 95 21221   Mobile: +353(0) 87 9435151
Lo-call: +353 (0) 76 6030227
Email: ardmorehouseskyroad@gmail.com
GPS: 53.499559-10.103783